After becoming the country's Steel baron, L. N. Mi
ttal has set his eyes on oil. Taking an exception to the current 26% FDI limit in public-sector petroleum refineries, government gave green signal to Mittal, allowing him to pick up 49% stake in Bhatinda refinery of HPCL for Rs.33.65 billion. The stake in the state run refinery with a capacity of nine million tonnes per year is being acquired through Singapore- based Mittal Energy Investments. The deal marks Mittal's foray into the oil sector and is also the largest FDI in the PSU refining sector. Land of Uncle Sam; worth $2 billion Indian investments in the US have touched the $2 billion mark in 2006-07.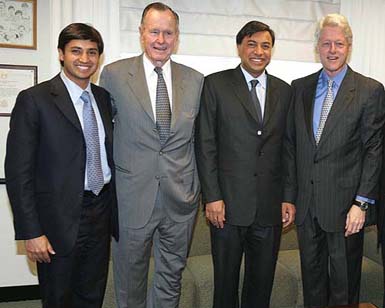 The IT and the ITeS sectors accounted for 48% of the total deals. The investment figure is likely to go beyond $10 billion by 2010. Motivated by factors like greater profitability, cost advantage and a moderate regulatory atmosphere promoted by the government, a total of 48 overseas deals were inked in 2006-07. Also, many small and mid-sized deals contributed somewhere between $20-60 million. A joint study by FICCI & Ernst and Young predict better activity in this sector.
For Complete
I
I
P
M
Article, Click on
IIPM Article

Source : IIPM Editorial, 2007

An IIPM and Professor Arindam Chaudhuri (Renowned Management Guru and Economist) Initiative

Read more:-
A tough Endeavour
Alarm bells
ICICI hai na!
Taking Taj to places...
Delhi to sip Starbucks first
A Fair and Handsome deal
Blackstone buys out Intelenet
Calling off the 'Spice'y Idea!
HLL 'Lever' ages the power of Hindustan